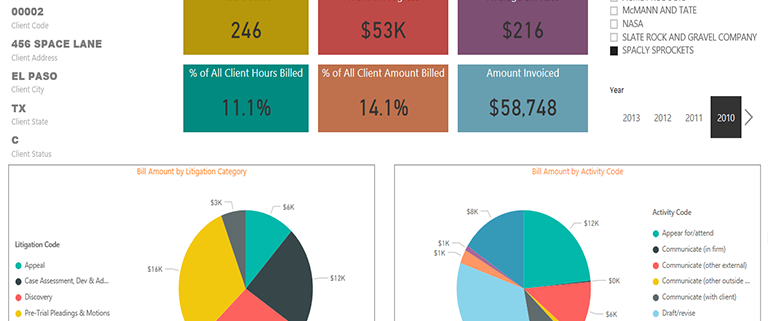 Law Firm Management Analytics provides actionable insights for legal firm business operations by analyzing the key performance indicators essential to optimal performance and profitability.
 
The practice of law is a profession, but a law firm is a business and must be managed like a business. Most firms have managing partners, and most managing partners do not have formal business training. Furthermore, most managing partners are expected to bill, which means that the time spent on management takes away from their profitability. The way to address this is by putting the data in front of these managers that is of utmost importance to the firm to make informed decisions rapidly and take action.
No firm will use all the potential analytical measurements of law firm performance, no matter how large or small the firm. One of the key reasons for this is that firms' importance on specific KPIs will change over time as the firm evolves. So, what makes one or more of the various performance indicators a key performance indicator for your firm?
An indicator must:
Reflect the firm's strategy and goals
Be key to the firm's success
Be quantifiable
The nature of a firm's practice will also affect its selection of KPIs.  For example:
Transaction-focused firms will have different KPIs than relationship-focused firms
Billable-hour-driven firms will have different KPIs than tariff-driven firms
Firms at a growth stage in their life cycle will have different KPIs than firms at a succession or mature stage
This showcase dashboard should be considered a starting point for your firm. Flexmanage will leverage its deep experience in law firm IT enablement to work with you to customize the solution for your firm, its management systems, and its objectives.
Report Breakdown:
Client: We profile each client, the kind of work performed for them, the revenue they generate, and their value based upon the share of the firm's revenue that they represent.
Practice: Practices are often managed as separate entities, and this part of the report enables the analyses of practices by location, litigation code by measuring billing rates, amounts, and hours.
Timekeeper: We profile attorney productivity across many key metrics to instantly understand who is most productive and who is underutilized.
Billing: This provides a breakout of where the revenue is coming from across many dimensions to help the firm plan for staffing and resource demand.
Billing Compare: A view of billing performance over time.
https://nexumbs.com/wp-content/uploads/2021/09/FlexManage.png
512
768
Nexum
https://nexumbs.com/wp-content/uploads/2021/03/logo.png
Nexum
2021-09-22 22:59:40
2021-09-25 23:12:51
Increase the performance of your Law Firm with Power BI